Paris is one of the most expensive tourist cities in the world. The richest collections of museums and exemplary architecture, trendy boutiques and galleries, noisy holidays and romantic corners away from the well-worn places of tourists – everyone will find a reason to fall in love with this city. Continued popularity among tourists leads to consistently high prices. It's hard to imagine that traveling to Paris can be on a budget. But with a skillful approach, here you can find many ways to save money. So, let's try to go to Paris inexpensively. How to get your portion of impressions and not overpay? What is cheap or even free in Paris?
Budget trip to Paris: choose the time of the trip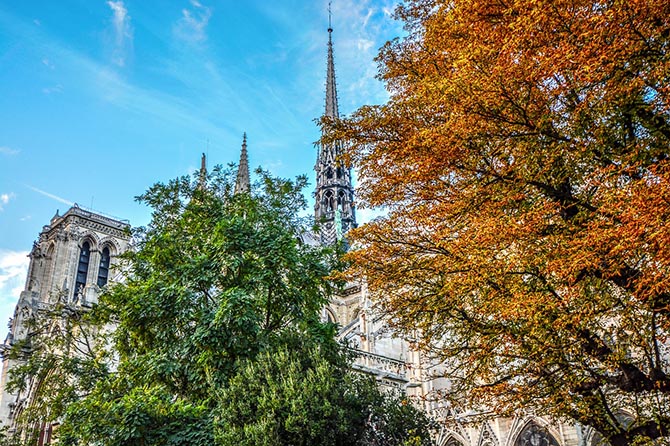 If you are not tied to specific dates, go to Paris during the low season. From October to March (except Christmas), house prices and the average check in a restaurant are significantly lower than from late spring to early autumn. True, the mild European winter and the first month of spring require you to stock up on waterproof shoes and an umbrella. But you don't have to queue for hours at the Louvre and the Eiffel Tower elevator. In addition, many museums on certain days are allowed free of charge. Read about it below or look for information on the official websites of museums.
How to get to Paris cheaply
Here you can find useful information about the possibilities to buy cheap tickets, including to Paris. If you take tickets in advance (six months before the trip), then it is quite possible to find them at an applicable price. Low-cost airlines that fly to Paris from different European cities: Wizz Air, EasyJet, Ryanair, airBaltic. Cheap flights from Moscow to Paris will also allow flights of the Pobeda low-cost airline.
If you have time and desire, you can combine flights from different airlines by building a complex route. For example, to fly to Paris through other cities in Europe, from where there are budget flights.
How to save on accommodation: cheap accommodation in Paris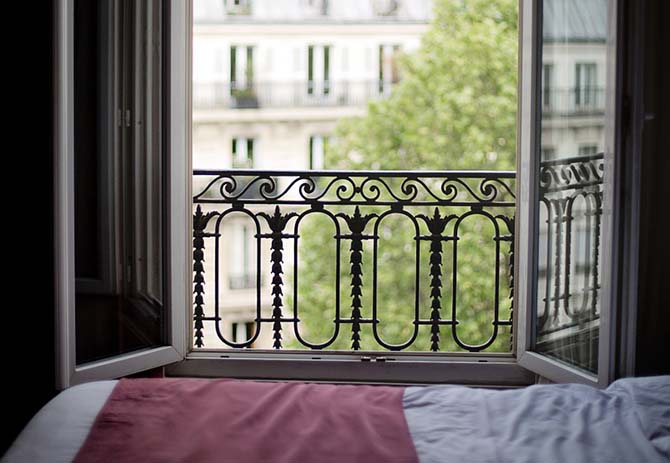 The cost of a hotel room in the central districts (I-IV on the left bank of the Seine) is significantly higher than in neighboring districts V and VI on the right bank. You can stay at a hotel in remote from the center, but quite respectable XV-XVI districts. But housing in the north-eastern regions and on the legendary Montmartre should be chosen carefully: these locations are suitable for lovers of nightlife and those who are not afraid of being close to migrants. In any case, it is better to look for accommodation closer to the metro station: a convenient branched subway will take you to the historical center of Paris quickly and on a budget.
If you can't afford Paris hotels, look for options among rental apartments. Travelers willing to share a room with other tourists are also looking for hostels in Paris.
In addition, budget travelers can consider couchsurfing options – and there are hospitable people in Paris!
Food in Paris: how to eat and not go broke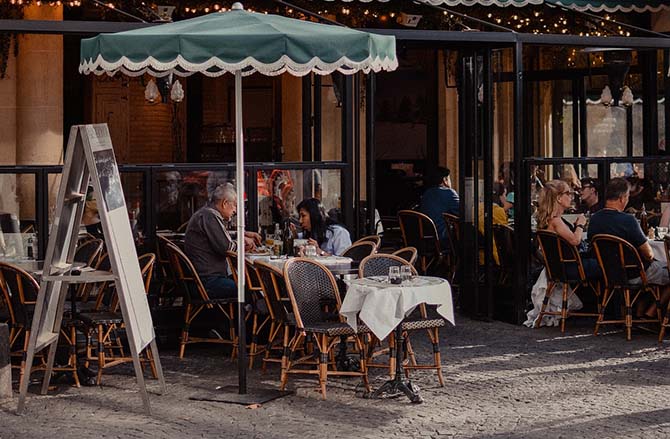 Of course, once in Paris, you should not deny yourself gastronomic pleasures and pleasant gatherings in a cozy cafe or panoramic restaurant. However, you don't have to chic every day if your budget is tight. Avoid tourist restaurants (they are always overpriced and the quality of food is sometimes underestimated), look for cafes where locals dine. Among the budget French catering establishments are Creperies (creperies – French pancakes), Bistro (bistro), Boulangerie (Boulangerie – a traditional bakery with a huge assortment of delicious pastries).
In some places you can order takeaway food – it is always cheaper, as it does not include a table service fee.
If you just stopped by for coffee, then enjoy a drink at the bar – it will be much cheaper than at a table.
Those wishing to save money on food in Paris should also pay attention to business lunches and set meals. Many establishments offer plat de jour (dish of the day) or formule (set menu).
Or you can even rent an apartment, a room or a place in a hostel with a kitchen (whatever you like) and cook for yourself. It is better to buy products in supermarkets and markets, and not in shops in the center or specialized shops. By the way, you can drink water in Paris straight from the tap. On the street, Wallace Fountains with drinking water will help you out – sculptural compositions made of cast iron painted with green paint, located in all districts of the French capital. But bottled water in tourist places will cost a pretty penny.
How to get around Paris cheaper
You can get to the hotel from the airport by taxi, charter shuttle, regular municipal transport – train or bus. If the cost of a taxi ride starts from 50 euros per car, then a train ride for an adult costs about 10 euros, and children under 4 years old will be taken for free. The price of a ticket in a city bus is an average of 5-8 euros, depending on the time of day and place of purchase (at the box office you can buy several trips at a wholesale rate). In commercial shuttle buses, prices are 10-15 euros higher.
Advice. When booking a hotel or apartment, try to choose a location close to any RER station. This will allow you to significantly save on the road to and from the airport. Save not only money, but also time and effort – if the hotel is near the RER station, you can get from the airport directly by train without changing to the metro or buses.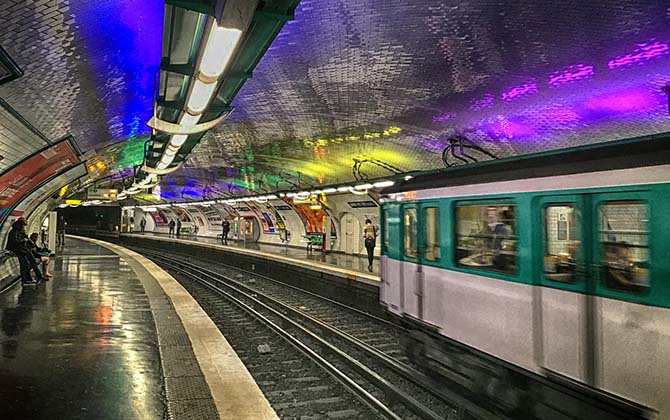 Travel passes
If you plan to actively use public transport in Paris, then it may be beneficial to purchase a travel pass. Trains and buses from the airport, including commercial Roissybus shuttles, have Navigo and Paris Visite passes if you book the 5-zone fare. To move around the tourist center of the city without a transfer to the airport, Versailles, Disneyland or suburban outlets, it is enough to pay for "3 zones".
Peculiarities:
Navigo Découverte is a personalized card (a photo of the owner is attached to the rechargeable card, which is better to bring with you and save on registration). This pass can be bought for a day, a week or a whole month. It is important to know that Navigo Découverte is valid for a week from Monday to Sunday. The carrier itself (rechargeable card) costs 5 euros and is valid for 10 years.
Alternative travel card for 1 day, which does not require a photo – Mobilis: just enter the name, surname, date and use an unlimited number of trips during the day in all modes of transport.
Paris Visite is a combination of a travel pass and a tourist pass. Paris Visite owners within the selected fare zones (center or center + airport + Disneyland) can make unlimited trips on the metro, high-speed trains, commuter trains, buses and even on the funicular to Montmartre, which is part of the public transport system and originates from rue du Cardinal Dubois. The card is issued for 1, 2, 3 or 5 days. The price for a daily card valid within 1-3 tariff zones (Paris without suburbs) will be 12 euros for an adult and 6 euros for children over 4 years old. At the same time, cardholders are entitled to discounts at the Lafayette shopping gallery, Versailles, the Arc de Triomphe memorial complex, the Picasso Museum and several dozen others. If you are planning a cultural program with visits to these attractions, consider in advance whether it is worth buying a comprehensive card. By the way, Paris Visite provides a special price for riding on river buses.
If you plan to travel a lot by metro or trams, but Navigo and Paris Visite cards are not suitable for one reason or another, it is more profitable to buy not single tickets, but a set of 10 pieces – Carnet (carne). By the way, they (you can use the whole company). Carne for children 4-9 years old costs 50% of the adult rate. Tickets are not limited in validity. You can even use them on your next visit to Paris.
Paris by bike
It is impossible not to mention another form of transport that is convenient to use in Paris – bicycles. Velib has opened about 2,000 rental points. To get a bike at your disposal, you need to have 150 euros on a card with a chip – the money will be blocked for the duration of the rental. By the way, the first hours are free: you can travel around Paris all day if you change your bike in time. Not ready for such a quest – pay 2 euros per day.
And if you are a fan of hiking, then in some cases you can even save on transport – sights are at every step!
Walk on foot
Perhaps the most important attraction of Paris is its atmosphere. You can visit many places "for show", or you can just walk the streets and feel this extraordinary city, admire the luxurious architecture, enjoy the aromas, listen to the music of French speech. All this is available completely free of charge! It is only important to make good routes.
How to visit the museums of Paris for free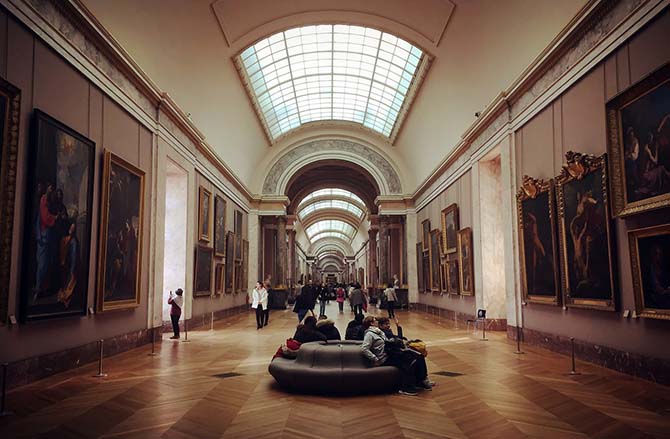 To save money while traveling to Paris, you can check in advance on the websites of the museums that you are planning to visit when this can be done at a lower price or even for free. In addition, tickets to Parisian museums can be bought for 1-3 euros cheaper if you do it on official websites, and not at the box office.
Many sights of Paris can be visited for free. Know that the city (not federal) museums of Paris are free all year round! Among them: the Center for Contemporary Art, the Victor Hugo Apartment Museum, the Honore Balzac Museum, the Carnavalet Museum, or the Museum of the History of Paris (Musée Carnavalet), the Museum of Fine Arts in Le Petit Palais, the Museum of Romantic Life (Musée de la vie romantique) in Montmartre, National Museum of the Legion of Honor and Orders of Knighthood and a number of others.
Entrance to all the listed museums is always free for everyone. But even in paid museums there are open days when you can visit them without buying a ticket. Major museums are ready to open their doors for free:
On the first Sunday of any month (Center Pompidou, Delacroix Museum, Orsay Museum, Quai Branly Museum, Picasso Museum, National Museum of Medieval History).
On the first Sunday of the month from October to March (Musee Rodin).
On the first Sunday of the month from November to March (Arc de Triomphe, Conciergerie castle on the island of Cité, Pantheon, Palace of Versailles and other palaces and castles).
From 2019 on the first Saturday of the month from 18.00 to 21.45 you can visit the Louvre free of charge. Entrance to the museum is free all year round for anyone under the age of 18.
If your trip falls in May, find the date of the "Night of Museums" on the Internet in advance – and visit museums for free (though in the company of many other tourists).
Free attractions in Paris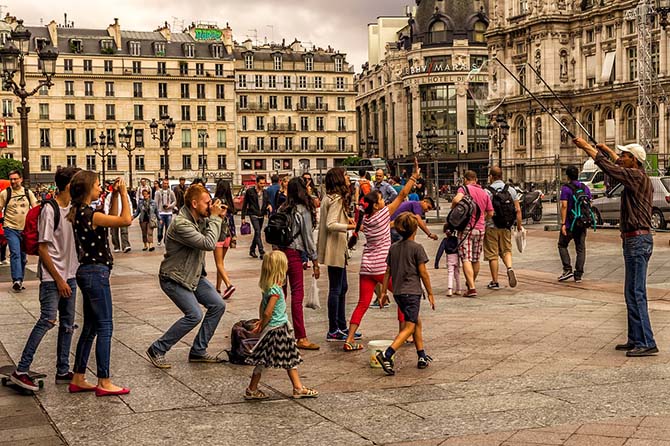 Free observation decks
To see Paris from above, it is not necessary to climb the Eiffel Tower or Notre Dame. Excellent views also open from the top of the Montmartre hill (this is the highest point in Paris) – there is an observation deck with free access near the Sacré-Coeur Cathedral. There is also an observation deck in the building of the Museum of the Arab World in the Latin Quarter.
Churches of Paris
Parisian churches and basilicas can also be visited for free. The legendary Notre Dame, the Madeleine Church, the iconic Saint-Coeur in Montmartre, the ancient churches of Saint-Germain and Saint-Sulpice and other churches and basilicas of Paris are available to visit without any fee. You will need to pay only if you decide to take the elevator to the viewing platforms arranged in many temples.
Streets and squares
The ancient streets and elegant squares of Paris are bright sights in themselves. Luxurious architectural ensembles, rich history, unique atmosphere make them no less, and sometimes even more interesting for tourists than the famous museum collections or magnificent palace interiors. Moreover, you can admire them completely free of charge!
Parks and gardens
In spring, summer and autumn, a walk in one of the gardens or parks of the city will bring special pleasure. Picturesque and fragrant beauties await you in the Luxembourg Gardens, in the "sculpture garden" of the Tuileries, in the Botanical Gardens near Père Lachaise and many others.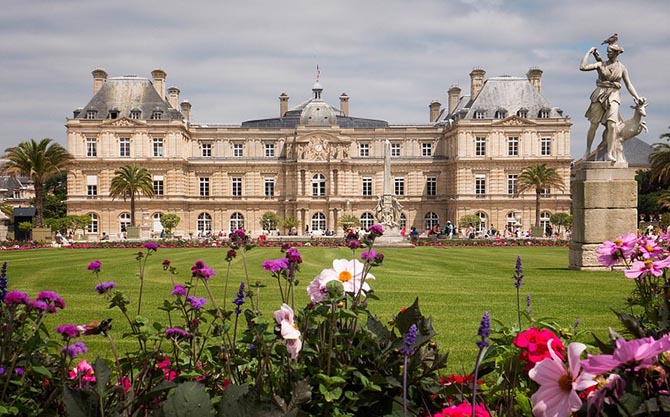 Tourist cards
The Paris Visite card, which we mentioned above, does not limit the hospitality of the Parisians. If you plan to actively visit museum exhibitions, and at the same time want to buy entrance tickets to Paris museums cheaper, pay attention to the Paris Museum Pass: you will not only save money, but also go to some museums without a queue. The card itself for 2 days costs 48 euros, for 4 days – 68 euros. You don't have to pay, for example, 15 euros to enter the Louvre or 10 euros to climb the towers of Notre Dame de Paris. The card will pay off or not – consider for yourself, based on the richness of the program.
You can visit museums during the validity period of the Paris Museum Pass an unlimited number of times. Name card. It is activated at the moment of the first use when passing through the museum turnstiles – it is better to do this at the beginning of the day so as not to reduce the time of use. You can buy a Paris Museum Pass at airports, museums, many shops and newsstands, tourist centers, as well as on the official website.
Paris Pass and Paris Passlib' – developments of travel agencies and travel agencies – sets of "passes" – cards that give discounts on transport, permanent museum exhibitions and excursions. These cards cost from 40 to more than 200 euros, depending on the validity period and incoming services. There are different variations of subscriptions for 1, 2, 3, 5 days. You can buy them (Paris Pass, Paris Passlib) or at the tourist offices on the spot. However, please note that unlike the Paris Visite transport, these comprehensive cards are not valid in 4-5 fare zones.
Audio guide instead of expensive excursions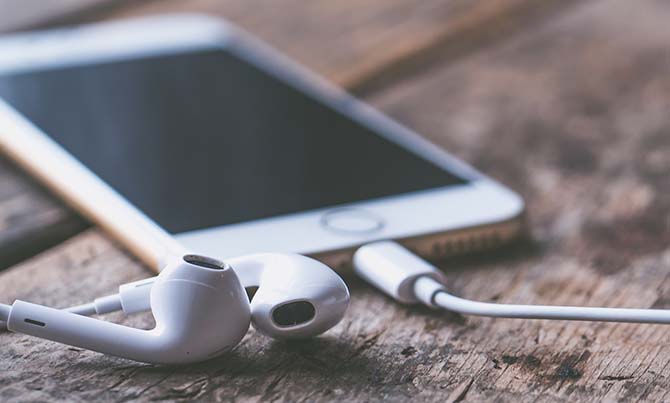 Excursions in Paris can be a significant part of the travel budget. At the same time, group tours deprive you of freedom and involve dependence on the group, while individual tours are very expensive and definitely not suitable for budget tourists. But you can't come to Paris and not learn anything about its history, features, sights!
In the past, paper guidebooks were a cheap alternative to excursions, which eased expenses, but significantly weighed down luggage. Modern technology makes life easier for the traveler and allows you to explore the city in a more "advanced" way. A lot of useful information about the city and its sights can fit in your smartphone if you use a mobile guide to Paris. Thanks to GPS navigation, you can track your location on the map, determine the distance to interesting places, learn a lot of interesting things about the sights of Paris. The map of Paris with attractions in the application is free and available offline, and therefore no Internet costs are required when roaming.
Free WiFi
During the day, free Wi-Fi is available in many public places in Paris (including parks, gardens, and squares). To connect to a free urban network, you need to select on the device as PARIS_Wi-FI_ (and then the Wi-Fi zone number), accept the terms of use (they will be displayed in French), enter some data and click the "ME CONNECTER" button. After that, the connection will be available for two hours, and then you can go through the same connection procedure again and continue working.