Paris kitchen
French cuisine is famous all over the world and is considered one of the most exquisite. And in Paris you can get acquainted with its best traditions, because the Parisian cuisine combines the best of the different regions of the country. What to try in Paris a tourist to take away with the most pleasant memories and impressions? What food in Paris is worth your attention? Where to eat in Paris, tasty and beautiful? To help you understand the peculiarities of local cuisine, we have prepared a small culinary guide to Paris. This overview will help you decide on the choice of establishments for your taste and wallet, and at the same time to understand the many nuances of local gastronomy.
Where to eat in Paris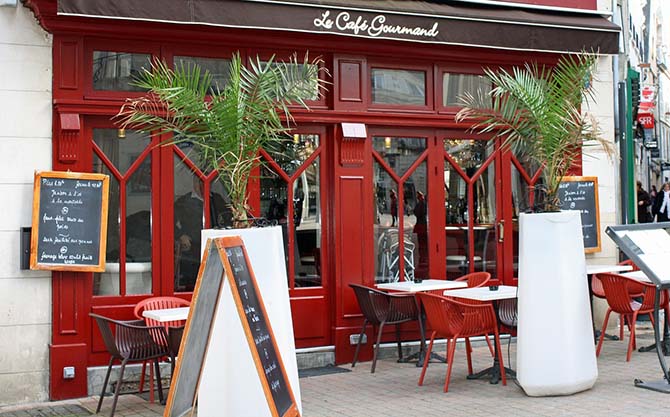 La Tour d'Argent
15 Quai de la Tournelle
A legendary restaurant, one of the oldest in Europe. It is believed that it opened back in 1582 as a wine tavern, and at one time it was visited by King Henri IV himself. Famous for its beautiful view of Notre Dame Cathedral and its wine collection.
Maxim's
Royale, 3
One of the most famous restaurants in Paris. Originally it was a bistro opened by Maxim Gaillard in 1893. In 1981, the institution was taken over by Pierre Cardin, who created a museum of Art Nouveau on the upper floors. At various times John Travolta, Brigitte Bardot, Edith Piaf, Maria Callasse, Aristotle Onassis, Coco Chanel, Vladimir Vysotsky, to name a few, came to Maxime for haute cuisine.
Le Procope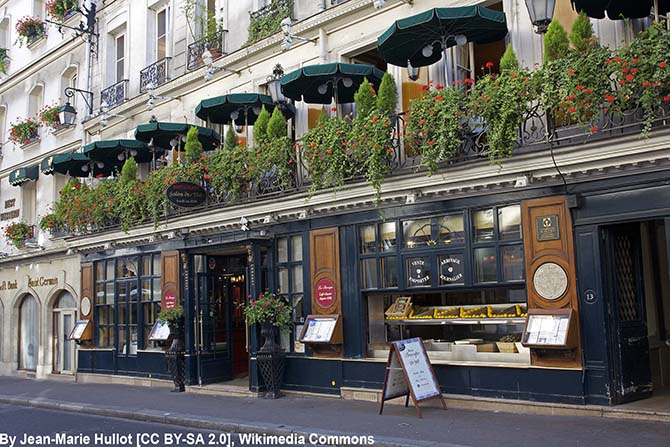 13 Rue de l'Ancienne Comedie
The Procope is considered one of the oldest cafes in Paris. It opened in 1686, at a time when coffee, recently introduced to France, was just gaining popularity. Its tables remember Voltaire and Rousseau, Diderot, Danton, Robespierre, Balzac and many others. It is said that the Declaration of the Rights of Man and the Citizen of 1789 was drafted here.
Le Jules Verne
2nd floor Eiffel Tower
"Le Jules Verne" is a view restaurant on the second floor of the Eiffel Tower.
58 Tour Eiffel
1er étage de la Tour Eiffel.
Another restaurant located inside the Eiffel Tower, only on the first floor – 58 meters above the ground. Visitors to this restaurant in Paris can get to the tower, skipping a long line.
Les Ombres
27 quai Branly.
The restaurant on the roof of the museum on the quai Branly. The main advantage is an excellent view of the Eiffel Tower.
La Coupole
102, Boulevard du Montparnasse
La Coupole Brasserie on Boulevard du Montparnasse opened in December 1927 and quickly became a favorite among Parisian bohemians, including Marc Chagall, Picasso, Ava Gardner, Marlene Dietrich, Jean-Paul Sartre, Hemingway.
Where to eat cheap in Paris: budget places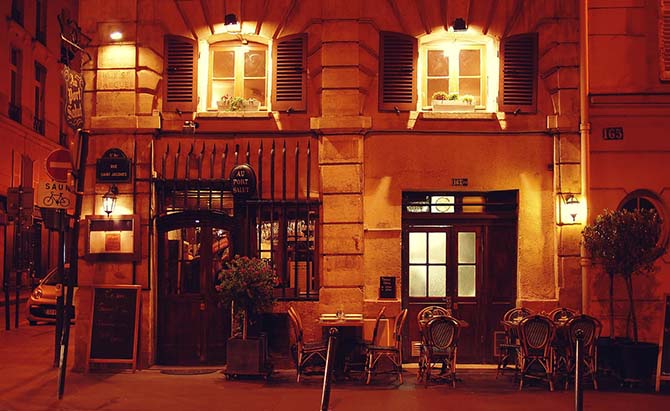 Inexpensive establishments in Paris should be looked for a little away from the popular tourist routes. Turn from the legendary avenues into quiet streets, walk a few blocks inland, and you are sure to find small and relatively budget restaurants where you will find not only affordable prices, but often excellent service.
For example:
La Petite Rose des Sables (6 rue de Lancry) is a tiny and unusually cozy restaurant with home-style cuisine near Boulevard Saint-Martin.
Le Vent d'Armor (25 quai de la Tournelle) is another nice "homey" place with excellent cuisine, on the seafront of the Seine.
La Reserve de Quasimodo (4 Rue de la Colombe) is a small and cozy tavern not far from Notre Dame, with a good wine list, hearty food and reasonable prices. Part of this place is the old wine restaurant Resto Cave a Vin – it's been here for about 800 years!
In addition to restaurants, large or small, in Paris you will find many other budget institutions where you can eat good food: cafes, bistros, brasserie, boulangeries, creperie…. Yes, the range of French catering establishments is very wide! If you are already confused by these names, let's try to understand how they differ and what to try in Paris in each of them.
Café
Paris's numerous cafes offer traditional French cuisine, but at more affordable prices than restaurants. Parisian cafes often operate intermittently, serving customers only during breakfast, lunch, and dinner hours. The exceptions are the tourist areas of Paris. There you can eat at any time of day.
Among the many cafes in Paris, places with history stand out. Prices in them are not affordable – these are elite places that cherish traditions and keep the brand. For example, the legendary Café de Flore (172 boulevard Saint Germain) and Les Deux Magots (6 Place Saint-Germain des Prés). These are expensive and world-famous bohemian places that remember such visitors as Exupéry, Picasso, Faulkner, Appollinaire, Hemingway, Sartre, and many others.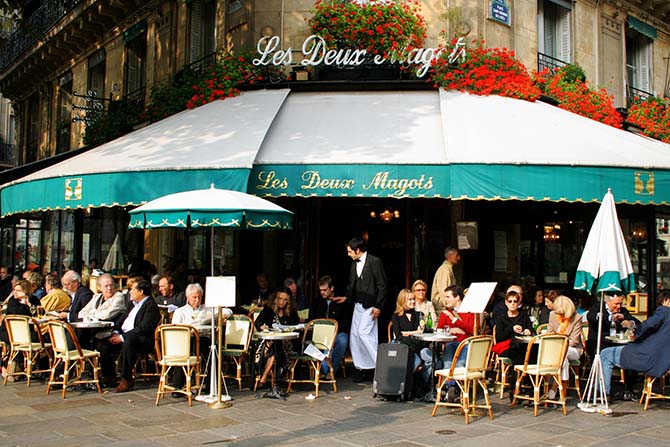 And here are a few other not-so-famous, but more budget-friendly cafes in the center of Paris:
Au Vieux Paris (24 rue Chanoinesse) is a charming café near Notre Dame.
Café des Musées (49 Rue de Turenne) is not the cheapest café in Paris, but has good food. You can save money by taking a meal of the day. Located in the Marais district.
Strada Café (94 rue du Temple) – A cozy place with good coffee, near the Pompidou Center.
Aux Cerises (47 avenue de Suffren) – not a bad cafe not far from the Champ de Mars and the Eiffel Tower.
The humble charm of Parisian bistros (Bistrot)
In Parisian bistros everything is simple, without frills – a modest design, a simple menu, sometimes crowded. But they are inexpensive, tasty and homely.
Few good bistros in Paris:
Le Bon Georges (45 Rue Saint-Georges).
Le Vieux Bistrot (54 rue Mouffetard).
Bistrot Richelieu (45 rue de Richelieu).
Bistro V (56 boulevard de Port Royal)
Brasserie – beer restaurants in Paris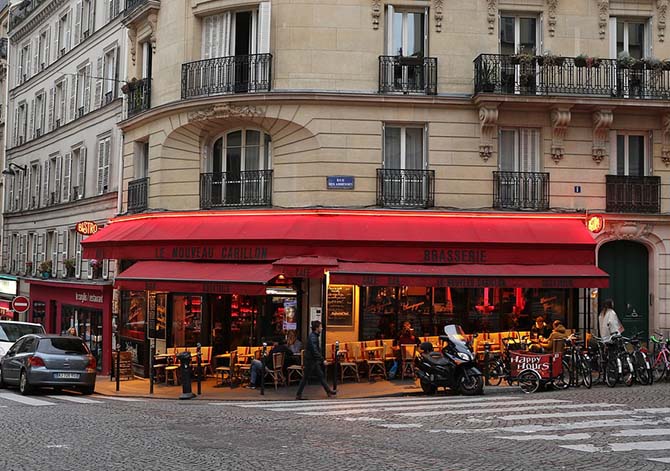 This name translates as "brewery", but French brasserie is more than that, it is a local lifestyle. In these places visitors are offered approximately the same set of dishes of French cuisine, often you can take a "dish of the day"). It's nice to sit in them, have a mug of beer, eat onion soup and duck stew.
Among the Parisian brasseries there are institutions with a rich history, known far beyond France. For example, Brasserie Lipp (151 Boulevard Saint-Germain – we talk about it separately in our free audio tour of Saint-Germain).
Here are a couple of budget brasseries that locals visit:
Bar Brasserie (rue Lepic, 3), a modest budget establishment in Montmartre, where you can eat good and inexpensive
Le Relais Fac Brasserie (13 boulevard Saint Germain) is an inexpensive but good place in the Saint Germain area that locals like.
Crêperies (Créperies) – pancake houses in Paris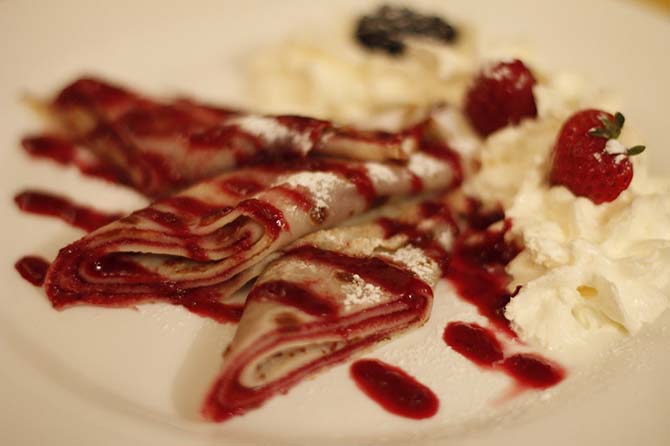 For a quick and inexpensive meal in Paris you can visit the local creperies (from "crepes" – crepes). These modest facilities, often just kiosks, scattered throughout the city. They offer traditional French crepes with fillings.
Among the best crepes in Paris:
Midi 12 (12 Rue la Fayette), a cozy pancake house near Galeries Lafayette in the 8th arrondissement.
Breizh Café (there are several addresses, for example, in the Marais district: 109 Rue Vieille du Temple) is a famous pancake house chain in Paris.
La Crêperie bretonne fleurie de l'épouse du marin (67 Rue de Charonne) is a cozy and colorful place in the Roquette district.
Boulangerie – the famous bakeries of Paris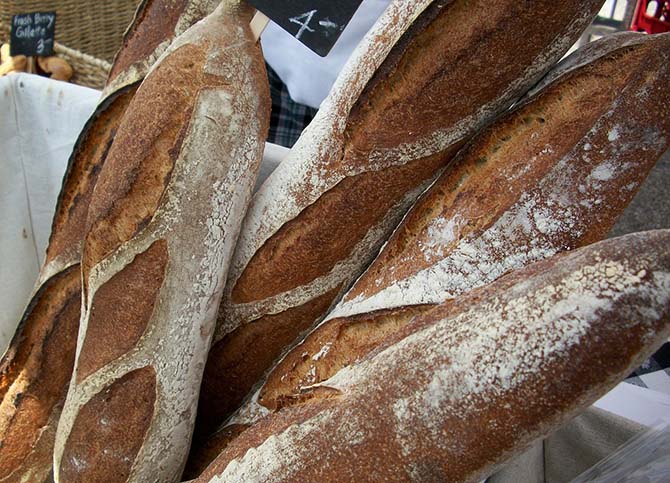 A traditional bakery with a huge range of bakery products. As a rule, you can have a fresh breakfast sandwich, which includes the famous baguette. Often Parisian boulangeries are combined with a patisserie (Patiserie), and then the sign reads Boulangerie – Pattiserie.
A few addresses where to eat fresh and delicious pastries in Paris:
Boulangerie Pâtisserie La Parisienne (28 rue Monge).
Jean Noel Julien Boulangerie (75 rue Saint Honore).
Chambelland Boulangerie (14 rue Ternaux).
Boulangerie Alexine (40 rue Lepic)
Boulangerie Poilane (8 rue du Cherche Midi)
Chocolatier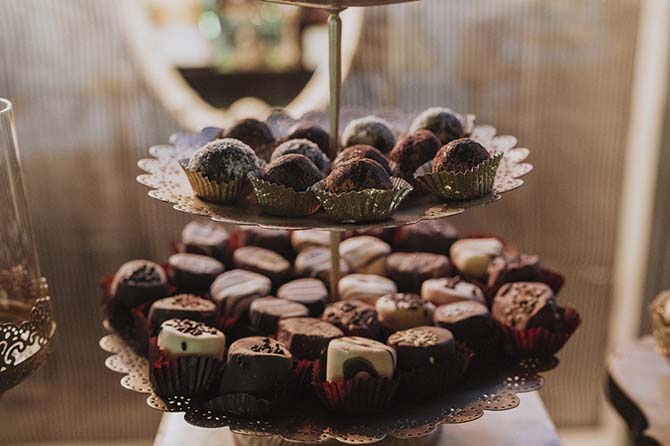 The Chocolatier is a place for sweet tooth. Chocolate in France is as iconic as cheese and wine. Candies with all sorts of sometimes very exotic fillings, pralines, glazed chestnuts, truffles and other delights can be found, for example, in Patrick Roger's boutique chain or Alain Ducasse Chocolate Factory (Alain Ducasse – 40 Rue de la Roquette).
And by the way – a box from a French chocolatier would be a great souvenir from Paris!
What to eat in Paris
Paris is the world capital of gastronomy, the city of gourmets and gourmet cuisine. And at the same time a huge metropolis in which a variety of culinary traditions meet and combine. Among the huge selection of dishes offered by Parisian cuisine, pay attention to the most famous ones.
A typical French breakfast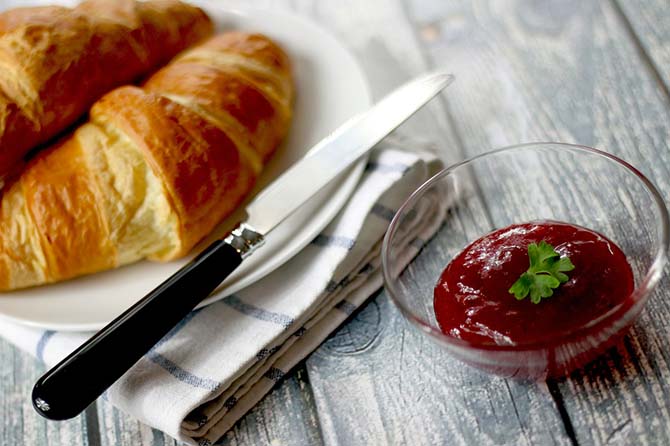 The French breakfast is very modest and not coincidentally called "petit déjeuner" (small breakfast). It usually includes a cup of coffee and, of course, a croissant. It may also be a bun or a sandwich. At breakfast in Paris, a baguette with jam/jam and butter may be served. If one wants to eat more densely, a hard-boiled egg is added, sometimes an omelet and orange juice.
Famous French Cuisine: What to Try in Paris
Onion soup
La soupe à l'oignon is a dish of white varieties of sweet onions, meat broth and garlic. It is believed that Louis XIV invented its recipe.
Snails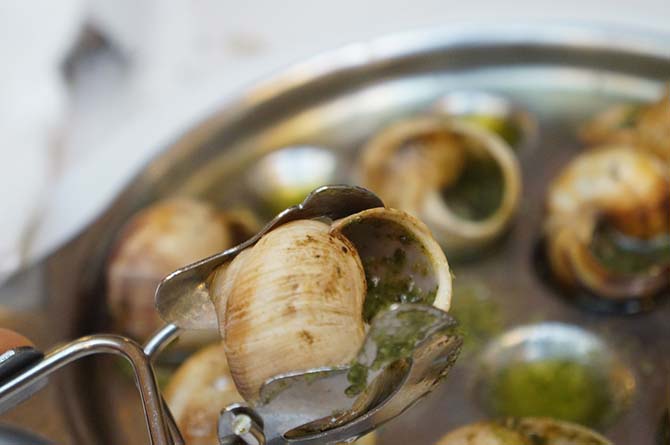 A popular French delicacy, which, however, does not surrender so easily to the beginner – you still need to know how to eat it.
Rooster in wine
Coq au vin is a Burgundian dish that has made its mark on the capital.
Frogs
The price for them varies from 12 to 20 euros. And to dispel the stereotype, it is worth adding that the French eat this delicacy rarely, mostly on holidays.
Foie gras
Without this dish of fatty liver of duck or goose no holiday table in France can do without it.
Truffles
This pleasure is not cheap and is considered a very delicate delicacy. One of the most affordable options is lasagna with truffles.
Roasted chestnuts
You can buy a bag of already cooked chestnuts in the season (from October to the end of winter) right on the street for 3-5 euros. You can also find them in a wide variety of dishes.
Cheeses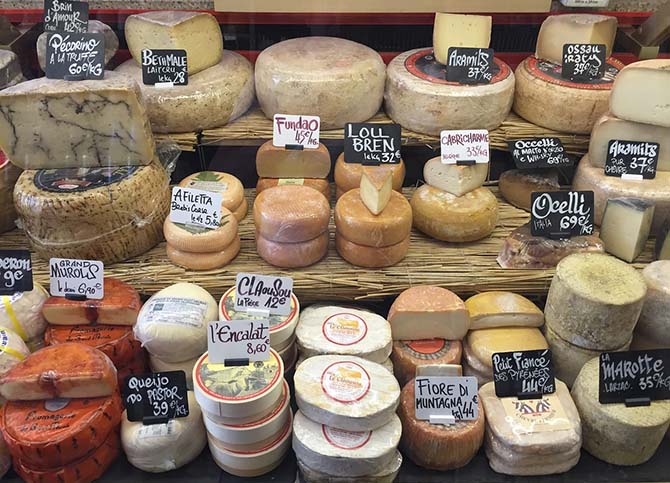 There are more varieties of cheese here only according to official data, than the number of days in the year. To understand all these brie with figs, royal Roquefort with quince, soft goat's milk cheese with mushrooms can be difficult even for a gourmet. And for beginners, it's easy to get confused.
Experts recommend getting acquainted with varieties that do not have bright flavors, and then move on to the mold of all shades and other spices. Camembert, Beaufort, Brie, Roquefort Xavier and Valence are among the best known and most popular.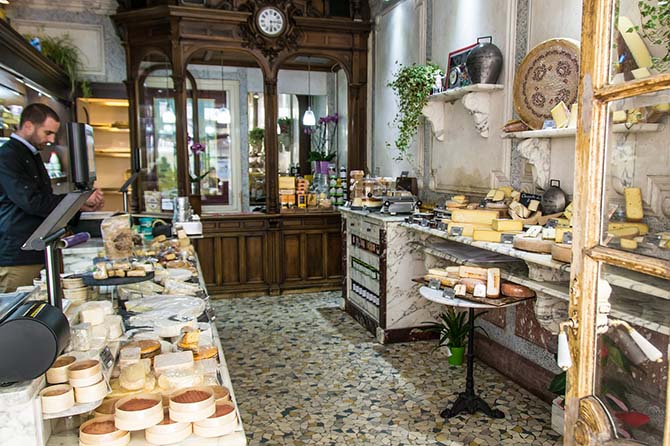 The best way to get closer to French cheese-eating traditions is to go to a cheese boutique (fromagerie) for a cheese tasting. There you will, in any case, help you navigate in a huge range of products and choose unparalleled cheeses for a cheese plate (and take a glass of wine). For example, at Fromagerie Danard at rue du Colonel Driant, 5, just outside the Louvre.
At Fromagerie you can also buy a cheese souvenir to take home. Just remember to ask for the gift to be vacuum-wrapped.
And remember – in cafes in Paris, the cheese plate is served as a separate dish before dessert.
Popular French desserts in Paris
Desserts are another pride of Parisian cuisine. There are a great many of them:
croissants and all kinds of pastries,
Mousse (mousse for "froth"),
Blanc-manger (blanc-manger), a cold dessert,
meringue, or baiser (from the word "po")
grillage,
crème brûlée (literally "burnt cream"),
Profiterole (profiterole) made of custard dough,
Petit fours (petit four, "little oven"), an assortment of small cookies or cakes,
soufflé,
Tarte Tatin (Tarte Tatin) is a famous French apple pie "inside out",
and other pastries and cakes….
The delicate French dessert macarons – cookies made of almonds, sugar and whites with a layer of cream and an unforgettable taste – has become very popular all over the world.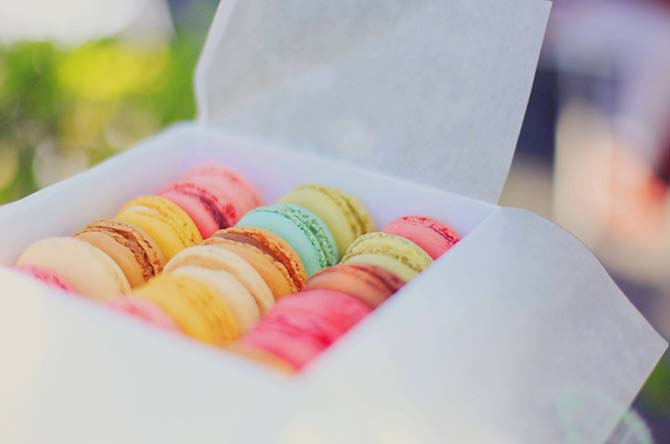 There are legends about the origin of these light almond cakes. One of them says that they were invented not in France, but in Italy. And the French learned the recipe for this almond treat after the Italian Catherine de Medici married Henry IX and became the Queen of France. But the French also tell a more patriotic legend about sisters named Macaroni, who were nuns in Nancy and invented such cakes in order to enjoy them without breaking the strict fasting rules of the monastery. According to the legend, it was already in the 8th century!
How it was in reality, no one knows exactly. And even the origin of the name remains a mystery. By the way, there is some confusion about the name. Someone calls them macarons, and someone calls them macaroons. The first version is still more correct, although to call the French multicolored yummy things macarons is strange for the Russian-speaking people. But the French "macarons" reads exactly as it is, although with a characteristic prononce. And "macaroons" are more commonly referred to as American coconut cakes, which is a completely different dessert.
French wine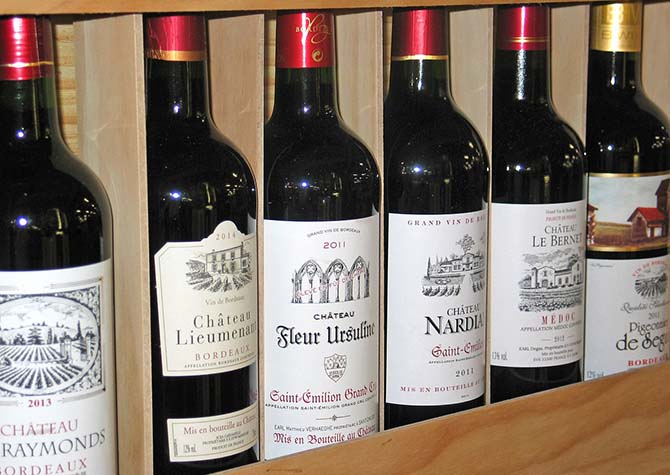 Wine in France is not a luxury, but an integral part of everyday life. It is almost impossible to buy bad wine in Paris – already in the range from 4 to 20 euros per bottle quite good quality wines are sold.
In order not to wander between the bottles for a long time, be guided by the French when choosing wine. And they prefer, as a rule, the prices from 5-6 euros, deep-bottomed and green label on the cork. It's good if the label also says "Mis en bouteille en propiété," which means that the wine was bottled in the same place where it was produced.
And remember, as a rule, the more modest the label, the better the quality of the wine. A good producer will not put something garish on his masterpiece.
Food in Paris: useful tips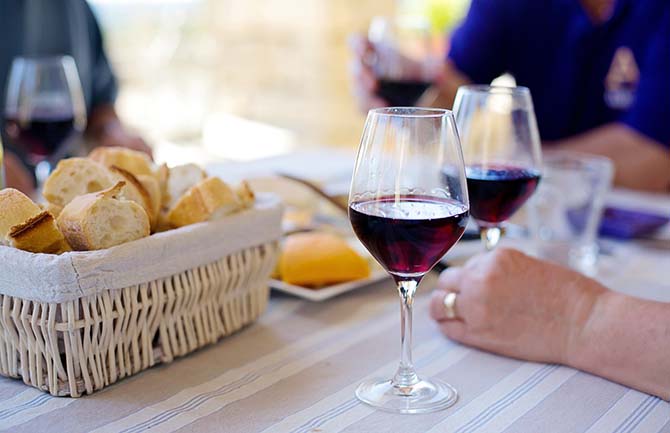 Take into account the opening hours
Many establishments of Parisian catering (especially cafes and restaurants) operate strictly according to the hours. Breakfast (if available) runs until 12:00, lunch – from 12:00 to 14:30, dinner – from 19:00 to 21:30. Many establishments are closed on Sundays and sometimes Mondays.
In crowded areas the schedule may vary, as well as opening times are extended to 23:00 and sometimes later.
Book your reservations well in advance.
Especially if you're planning to visit some famous popular place, and even with a panoramic view. Keep in mind – there are not enough panoramic views for everyone, and it may well happen that you will be seated in that part of the restaurant, where there is no view. To avoid this situation, specify and specify all your wishes when booking in advance.
On-line booking often allows you to save up to 20% on a visit to the institution. For example, if you book a table through a popular travel portal Trip Advisor. Or on the website of La fourchette.
Menu
The meaning of "menu" in Russian and French is different. The menu as we understand it – a list of dishes which can be ordered – is called "la carte" (la carte) by the French. And the words "menu" or "formule" (formule) refer to a ready set of several dishes. For example, "Entrée ou Dessert + Plat" (appetizer or dessert + hot) and "Entrée + Plat + Dessert" (appetizer, hot and dessert). You can choose your meal from the list on offer.
The more reputable the establishment, the more elaborate and sophisticated the dishes you can choose from the list. But in any case such an order "by formula" will always be more profitable than the general menu "a la carte".
Waiters and tips
Waiters in Paris are a separate caste. They earn good money, take pride in their profession, and behave with enviable dignity. Some people think they are arrogant and sometimes not too polite. Others say they are slow. The connoisseurs advise not to be picky, to accept the waiters as part of the Parisian cuisine and enjoy the food.
Tipping is usually included in the price, so it is not customary to leave anything else. But if you decide to thank the waiter, you are unlikely to be offended.
Month of Holidays
August is the month when the entire Parisian population goes on vacation. Keep in mind that many stores and small cafes may be closed during this time.